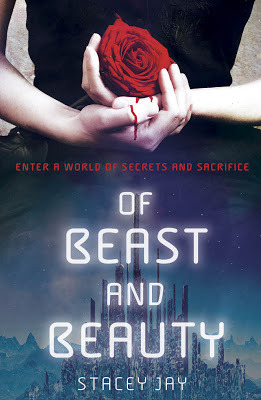 Of Beast and Beauty
by Stacey Jay
Release Date: July 23rd, 2013
Publisher: Delacorte Press
Arc, 385 pages
Genre: YA Fantasy
Get a Copy:
Amazon | B&N
Goodreads Summary:
In the beginning was the darkness, and in the darkness was a girl, and in the girl was a secret...
In the domed city of Yuan, the blind Princess Isra, a Smooth Skin, is raised to be a human sacrifice whose death will ensure her city's vitality. In the desert outside Yuan, Gem, a mutant beast, fights to save his people, the Monstrous, from starvation. Neither dreams that together, they could return balance to both their worlds.
Isra wants to help the city's Banished people, second-class citizens despised for possessing Monstrous traits. But after she enlists the aid of her prisoner, Gem, who has been captured while trying to steal Yuan's enchanted roses, she begins to care for him, and to question everything she has been brought up to believe.
As secrets are revealed and Isra's sight, which vanished during her childhood, returned, Isra will have to choose between duty to her people and the beast she has come to love.
Cindy's Review:
At a Glance/The Cover:
When I first saw the ARC in the pile, I didn't exactly want it. That trail of blood on the cover.....and a scaly man with claws certainly doesn't sound very appealing. Plus, I didn't really like the plot of Jay's Juliet Immortal and Romeo Redeemed. BUT, I got it in the end. I mean, duhh. Because I love retellings. So much. :) And Beauty and the Beast was a very cute story.
And Beast turning out to be a handsome prince in the end of the Disney story was definitely more encouraging. But who knows what twists Of Beast and Beauty has.
The Characters/My Opinions:
Princess Isra
-
A princess about to become a queen. Since she was young, she became blind in a fire accident. And now, at age seventeen (
I believe?
) her father, the King of Yuan, has passed of away. She is of age to become queen. But before she rules, Princess Isra must marry.
Being blind is certainly a big disadvantage. Those sly and whiskery nobles are definitely trying to gain access to the throne. Not steal her throne. Because being a queen is not as good as you think.
The roses in this book are enchanted. It seems they have their own mind, their own soul. They seem a bit evil. Or maybe just a bit blood-thirsty. Either way, kind of scary.
Gem
-
Let's move on to the "love interest" or shall I say, the other main character. Gem also has a point of view so you'll be able to hear his thoughts. Gem has an okay personality. He's not arrogantly handsome with cocky attitudes.
But that's alright cuz Princess Isra is blind. She can still hear though.
He's likable.
Needle
-
I'm pretty sure that's her name. Needle is the princess' lady-in-waiting. True to the lady. Reliable. Smart. Has the wits. Love her. What would Isra do without her? She's a dear.
Lover of Isra
-
Okay. There's this other guy. But I forgot his name. Cuz he's very annoying and controlling. Throughout the book, I just wished him gone. He's the one betrothed to Isra. The one who gains the throne. But in the end, he turned out to be a better person than I thought.
I think the plot of Of Beast and Beauty is wicked. I loved it! The twist of the characters. Although obviously, beast is still the Beast. And beauty is still the Beauty, roles are switched. Beauty is the princess. While Beast is the commoner. The outcast. Though Beast was saved in the beginning, Beauty was the one who truly need saving.
Overall Thoughts:
The characters were mediocre to me, but the plot, the storyline, the setting, was perfect! The romance. It's like watching a show on TV. BUT EVEN BETTER. Because you know what they're thinking. And just swoon over their romance.
The ending was like a fairy tale. Haha. Get it? That was lame. It ended perfectly. Like a fairy tale in heaven.
The Rating: (1-10): 8.5~