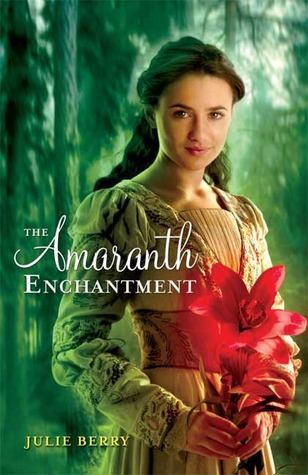 The Amaranth Enchantment
by Julie Berry
Release Date: March 3rd, 2009
Publisher: Bloomsbury Publishing
Genre: YA Fantasy, Middle Grade
Hardcover, 320 pages
Get a Copy:
Amazon | B&N | Audible
Goodreads Summary:
When Lucinda Chapdelaine was a small child, her parents left for the royal ball and never returned. Ever since, Lucinda has been stuck in perpetual servitude at her evil aunt's jewelry store. Then, on the very same day, a mysterious visitor and an even more bizarre piece of jewelry both enter the shop, setting in motion a string of twists and turns that will forever alter Lucinda's path. In this magical story filled with delightful surprises, Lucinda will dance at the royal ball, fall under the Amaranth Witch's spell, avenge her parents' death, and maybe—just maybe—capture the heart of a prince.
Cindy's Review:
At a Glance/The Cover:
Does this count as a retelling? It's a bit of a fairy tale twist up, but I'm not sure if this is a specific fairy tale retelling. It seems kind of close to Cinderella, considering the ball and the prince thing. But the witch? Ummm...either way, lemme just introduce how I met this book. :D
My friend told me about it a while ago. Like two years? I know, awhile back. I just never got to reading it, but this summer, I needed some books to read. SOOOO....yep. I mean, what else could have happened.
I REALLY LOVE RETELLINGS. Cuz they're amazing! Well, most of them~ If you have any recommendations, TELL ME! That's not a threat. Or an order. :) A friendly request.
Of course, I'm glad I read this retelling because The Amaranth Enchantment is full of twist and turns and guys.
The Characters/My Opinion:
Before I introduce the characters, I must say, some part really reminds me of The Lost Prince by Jennifer Neilson. The Amaranth Enchantment is like a series of fairy tales combined. With a fairy godmother of some sort. And a royal ball. And a lost prince. But also a worthy stone. And thieves. VERY ENTERTAINING.
Lucinda Chapdelaine
-
That last name though. :) LOL. Let me inform you that Lucinda is not a princess. YEP. How's that for a twist. UMMM. Not very amazing. But she does come from a high end family. Of course, until her parents died. Then, you know the rest. The mean aunt. The witch.
The thief
-
Since I did read this awhile back, I don't remember anyone's name except Lucinda's. Mainly because her name is in the summary. He actually plays quite an important role in this book. Because of him, Lucinda met the prince. I have to admit the thief was getting on my nerves in the beginning. After that.....well, he tried to be helpful.
The Prince
-
The love interest. The one that's engaged and all. But he kind of fell for Lucinda at first sight. Which I'm not quite fond of. So I must say, the romance was okay. Not super good. A bit juvenile. It could have been better. The Prince didn't really have a big input in this book. Or a big personality. He was just there to make the plot move on.
The Witch
-
I have no idea where she came from. Oh. Actually, she explained her story. So I am supposed to have an idea. She's actually a good person, but people know her as "the _____ witch". I don't remember the blank. :/ Either way, the witch somewhat saved Lucinda from her misery at her aunt's. The witch holds the conflict that Lucinda needs to resolve. And it all centers on that stone thing that represents the witch's soul.
I think this whole book really revolved around Lucinda. And the thief? Kind of. Lucinda is actually a brave girl. She's totally the heroine. Not a perfect one. She got tricked, scammed, yelled at, but she still braved on.
Overall Thoughts:
Because I really can't remember what happened, I end my super boring, mumbling, opinionated/horribly explained review about the plot and characters.
Overall? It was a great fairy tale retelling! I enjoyed it because of the fantasy and the fairy tales. And the girl's courage. Her personality is quite alright, but it just doesn't connect with me. I definitely didn't read it for the romance though. Sooo....looking for some cute love? Nope. Not here.
The Rating: (1-10): 8
Happy Reading!