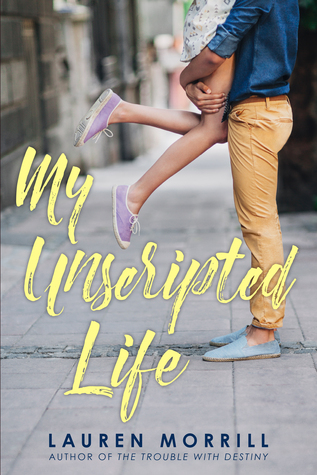 My Unscripted Life
by Lauren Morrill
ebook, 288 pages
Release Date: October 11th, 2016
Publisher: Delacorte
Genre: YA Contemporary
Attain a Copy:
Amazon | B&N | Book Depository
Goodreads Summary:
Sometimes love stories go off script.
Another sultry Georgia summer is about to get a lot hotter. Dee Wilkie is still licking her wounds after getting rejected by the precollege fine arts program of her dreams. But if she'd gone away, she wouldn't have been around to say yes to an unbelievable opportunity: working on the set of a movie filming in her small Southern town that just happens to be starring Milo Ritter, the famous pop star Dee (along with the rest of the world) has had a crush since eighth grade.
It's not like Dee will be sharing any screen time with Milo—she's just a lowly PA. And Milo is so disappointingly rude that Dee is eager to stay far away from him. Except after a few chance meetings, she begins to wonder if just maybe there's a reason for his offensive attitude, and if there's more to Milo than his good looks and above-it-all Hollywood pedigree. Can a relationship with a guy like Milo ever work out for a girl like Dee? Never say never...
I've been looking forward to a light, summer read and My Unscripted Life is just the one!

Yes, it may be those cheesy-ish novels where the protagonist falls in love with a celebrity after going through the "he is a jerk" phase. Next thing you know, the main character will slip into the "he is more sensitive than I thought" phase and slowly see the new light shined upon our love interest. The rest is history. I do not really mind the celebrity/normal person romance because you never know, it can be realistic.....though maybe a lot of the times, it isn't. I mean, look at Emma Watson -- she is dating a non-celeb right?
However, the romance in the novel is a little too insta-love for me. There are initial moments where the main character Dee gets mad at Milo's rude behavior but she definitely gave in to him way too fast. I love the love-hate phase in a fictional relationship, but that lasted about two and half chapters in My Unscripted Life.
Like it literally went from "I hate you so much" to "ohhh you're a decent perso
n" to kissing in the rain within the span of a few chapters. I am not too mad about the romance though, since it is a fun, light read.
Let's introduce the two main characters:
Dee

-

The protagonist lives in Georgia, about to start her senior year of high school. She doesn't get into an art program -- and her best friend got into a STEM program -- so she does not have anything to do or anyone to hang out with. Then in comes the movie job ... luckybutt, man I wish I got a summer job like that. Dee honestly does not have that much substance to her; just a young girl who came upon young love. I read these kind of books only to pass time because my summer romance is as dead as dinosaurs.
Milo
-
On the other hand, this guy is the opposite of Dee's sweet side. Of course he is a jerk. Aren't all celebrities when you first meet them? And then they become the angel you totally though they were when you truly get to know them. It is sort of understandable to why Milo acts like a jerk, but that's truly all the backstory we get to Milo's personality. Besides being a celebrity and someone who wants to live a "more normal" lifestyle, there is not that much substance to Milo as well. *sigh* This is why I emphasize summer read. Not to diss summer reads, of course, because there are some out there that is really good...but the super emotional ones are in my serious reads pile haha.
All in all, My Unscripted Life definitely does not contain any heavy, emotional scenes: some melodrama, a potential mean girl, and just the main character revealing her love of art. The whole behind the scenes of a movie set was fun to read about as Dee worked with the items in the background of a movie set. Having watched a lot of behind the scenes to dramas and movie bloopers, I totally have an idea of what Dee is seeing.

So if you're looking for a novel with cute, romantic scenes and not a lot of depth, My Unscripted Life will work well for you. :)

My Rating (1-5): 4