They're coming to San Francisco
Books Inc. at Opera Plaza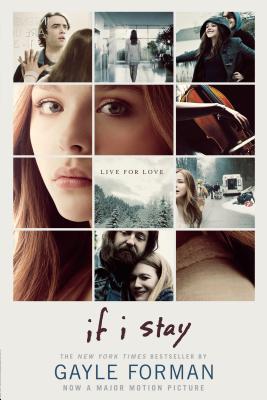 If I Stay
by Gayle Forman
SOON TO BE MAJOR MOTION PICTURE~
In the blink of an eye everything changes. Seventeen -year-old Mia has no memory of the accident; she can only recall what happened afterwards, watching her own damaged body being taken from the wreck. Little by little she struggles to put together the pieces- to figure out what she has lost, what she has left, and the very difficult choice she must make. Heartwrenchingly beautiful, this will change the way you look at life, love, and family. Now a major motion picture starring Chloe Grace Moretz, Mia's story will stay with you for a long, long time.
Gayle Forman

is an award-winning author and journalist whose articles have appeared in numerous publications,

including Seventeen, Cosmopolitan and Elle in the US. Her New York Times bestselling novel, If I Stay, has been
adapted into a film starring Chloe Moretz, Jamie Blackley, and Mireille Enos, and slated for release on August 22,
2014. Forman lives in Brooklyn with her family.
by Nina LaCour
Release Date: May 15th, 2014
A wunderkind young set designer, Emi has already started to find her way in the competitive Hollywood film world.
Emi is a film buff and a true romantic, but her real-life relationships are a mess. She has desperately gone back to the same girl too many times to mention. But then a mysterious letter from a silver screen legend leads Emi to Ava. Ava is unlike anyone Emi has ever met. She has a tumultuous, not-so-glamorous past, and lives an unconventional life. She's enigmatic…. She's beautiful. And she is about to expand Emi's understanding of family, acceptance, and true romance.
Nina LaCour (www.ninalacour.com) is the author of the award-winning Hold Still and widely acclaimed The
Disenchantments. Formerly a bookseller and high school English teacher, she now writes and parents full time. A
San Francisco Bay Area native, Nina lives with her family in Oakland, California.
by Jandy Nelson
Release Date: June 2nd, 2011
Seventeen-year-old Lennie Walker, bookworm and band geek, plays second clarinet and spends her time tucked safely and happily in the shadow of her fiery older sister, Bailey. But when Bailey dies abruptly, Lennie is catapulted to center stage of her own life—and, despite her nonexistent history with boys, suddenly finds herself struggling to balance two. Toby was Bailey's boyfriend; his grief mirrors Lennie's own. Joe is the new boy in town, a transplant from Paris whose nearly magical grin is matched only by his musical talent. For Lennie, they're the sun and the moon; one boy takes her out of her sorrow, the other comforts her in it. But just like their celestial counterparts, they can't collide without the whole wide world exploding.
This remarkable debut is perfect for fans of Sarah Dessen, Deb Caletti, and Francesca Lia Block. Just as much a celebration of love as it is a portrait of loss, Lennie's struggle to sort her own melody out of the noise around her is always honest, often hilarious, and ultimately unforgettable.
Jandy Nelson is the critically-acclaimed author of The Sky is Everywhere, and the highly-anticipated novel I'll Give
You the Sun. A former literary agent, she holds a BA from Cornell, an MFA in poetry from Brown, and an MFA from
the Vermont College of Fine Arts. She lives in San Francisco, California—not far from the settings of her books.
One lucky winner will receive If I Stay movie tie-in edition and Where She Went by Gayle Forman.
a Rafflecopter giveaway