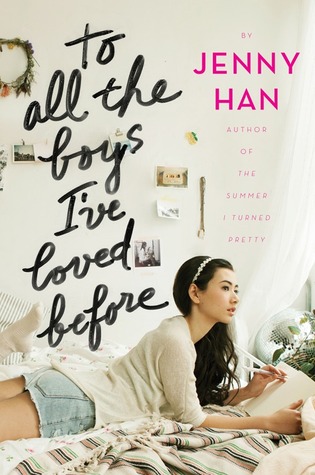 To All the Boys I've Loved Before
by Jenny Han
Release Date: April 15th, 2014
Publisher: Simon & Schuster Books for Young Readers
Hardcover, 288 pages
Content: YA Romance, chick lit
Get a Copy:
Amazon | B&N
Goodreads Summary:
To All the Boys I've Loved Before is the story of Lara Jean, who has never openly admitted her crushes, but instead wrote each boy a letter about how she felt, sealed it, and hid it in a box under her bed. But one day Lara Jean discovers that somehow her secret box of letters has been mailed, causing all her crushes from her past to confront her about the letters: her first kiss, the boy from summer camp, even her sister's ex-boyfriend, Josh. As she learns to deal with her past loves face to face, Lara Jean discovers that something good may come out of these letters after all.
Cindy's Review:
At a Glance/The Cover:
This book caught my eye because it kept on coming up on blogs. There were so so many reviews of it. Not those astonishing 'FAVORITE BOOK OF THE CENTURY' reviews. Maybe there were some 'favorite book of the year!!!' ones and 'now I finally like chick lit!' ones. Also, not much bad reviews came up. All I got was that 'it's funny how she isn't teased by everyone at her school for her letters and none of the boys were weirded out by her'.
So I decided to read this book. Not because of 'omg. There's romance! And it's chick lit! I love chick lit!' It was simply out of curiosity. AND I DID NOT REGRET IT ONE BIT.
The Characters/My Opinion:
Lara Jean
-
She's a very funny, quirky girl. She's random, but she can make conversations. She can make new friends. If I were her, I would be stuttering and won't be able to think of anything to say. Conversation wise, I want to be like her. She can talk about random topics really easily. Either way, I enjoy her thoughts and narration. Interesting and enjoyable. Not dramatic at all. I like that. Too dramatic is too icky. I like her chillish, cutish, quirkyish,
stealing some of Peter's words. Haha.
, funnyish way of talking.
Peter Kavinsky
-
He just sounds perfect. After finishing the book, I just can't get over him. Like. How come I never met someone like him? Really fun to talk to. He's outgoing and chatty. Not chatty like super yammering. But he's funny. He makes you happy. He seems so perfect even though everything he does is pretty average. Okay. Maybe I'm getting some of this from Lara Jean's point of view. But he sounds so so perfect. <3. And I'm not even talking about that physical aspect of him.
The one and only other time I couldn't get over a boy after I finished reading a book was Etienne St. Clair from Anna and the French Kiss. Despite the height, everything about him is lovable. I really like boys who can talk. Who has a happy atmosphere kind of personality. Outgoing. *sigh. They sound fake. Or maybe I just have to be more talkative, so they'll talk to me. :D
Josh
-
Josh is the other third of the love triangle. Lara Jean likes him. The first 15 chapters were basically about him. He's not the big-star athlete type. He's the quiet, the boy next door, whom you fall in love with type. And honestly, I have no problem with that. Those boys tend to be cute. Josh is like that. Pretty average looks. Friendly personality. Why not? P.S. Josh was also taken by her sister, Margot.
Plus, I swear up and down that Lara Jean is going to end up with him. Or is she? Because there was no, absolutely no mention of Peter at all. Till like 15 chapters after the book started. So typically, I thought Josh was 'the one'. Until I Peter. Then, he took the romance to a whole new level. Throughout the book, I was literally begging Peter to be the one Lara falls for.
The letters
-
Okay. Not a character. But a very interesting aspect of the book. I love her letters. Gee. I wish I wrote letters like that. They let out her whole heart. And they're really random. Like how do you find such random things to talk about? In a good way. Either way, they're kind of what started everything.
Overall Thoughts:
Absolutely love this book! I couldn't get over the whole Lara Jean <3 Peter Kavinsky. So cute. So cute. :) And I died at the end. IT WAS SUCH A CLIFFHANGER. Thank god for that sequel, cuz I need more Peter and Large. :D
The Rating: (1-10): 9.5~
It's one of my enjoyable chick lits. :)
Happy Reading~