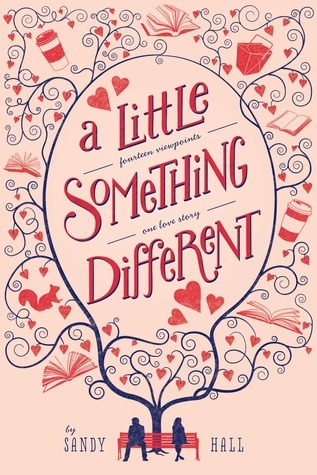 A Little Something Different
by Sandy Hall
Release Date: August 26th, 2014
Publisher: Swoon Reads
ARC, 247 pages
Genre: YA Contemporary Romance
Retrieve a Copy:
Amazon | B&N | Audible
Goodreads Summary:
The creative writing teacher, the delivery guy, the local Starbucks baristas, his best friend, her roommate, and the squirrel in the park all have one thing in common—they believe that Gabe and Lea should get together. Lea and Gabe are in the same creative writing class. They get the same pop culture references, order the same Chinese food, and hang out in the same places. Unfortunately, Lea is reserved, Gabe has issues, and despite their initial mutual crush, it looks like they are never going to work things out. But somehow even when nothing is going on,
something
is happening between them, and
everyone
can see it. Their creative writing teacher pushes them together. The baristas at Starbucks watch their relationship like a TV show. Their bus driver tells his wife about them. The waitress at the diner automatically seats them together. Even the squirrel who lives on the college green believes in their relationship.
Surely Gabe and Lea will figure out that they are meant to be together....
Cindy's Review:
At a Glance/The Cover:
I got this copy as a gift from Katie's Book Blog, thank you!
This cover is a really girly, cutesy pink. And hence the publisher, Swoon Reads, this is definitely a book about romance. My first opinion of this is cheesy. This whole plot is about Gabe and Lea. No other people. None other things. But that's what makes it cute. :) And there's also a little something different about this book. The 14 different POVs.
The Characters/My Opinion:
I'm not a real fan of alternating POVs. They can prove to be very interesting and gives a lot about the story, but I'm the type that likes to keep a little suspense. I like to wonder along with the main character what the other is thinking about and why they're acting that way.
To my surprise, this 14 POVs wasn't actually that bad. I did have to hop through a lot of different minds. And sometimes, I had to turn to the beginning of the chapter to check who was talking again, but most of the time, I was just engrossed about Lea and Gabe as the narrator was. Well, most of them.
Maribel
is Lea's roommate. We really don't learn much about these narrators, because everything is centered on Gabe and Lea. On how they meet. How they interacted. How shy they were. Some of their feelings they had expressed to their friends. What other people thought of them.
Through these POVs, we as readers can shape up our own thoughts and viewpoints of this couple. They are both really shy. Like really shy. So shy that I'm almost flipping tables to urge them on. They're even more shy than me. Is that possible? Apparently yes. If I had such an urge to talk to a guy, I probably will.
Other point of views include Gabe's brother -
Sam
, the bus driver -
Bob
, the creative writing professor -
Inga
, Lea's friend -
Danny
, Gabe's friend -
Casey
, the always-in-a-horrible-mood classmate -
Victor
.....etc. There are so much more. And since most of these are either strangers or really close to them, we get different impressions of these couples and that also helps us readers shape our thoughts. :)
We also get some cute POVs like
the bench
and
the squirrel
. :)
Overall Thoughts:
I honestly never read a book like this before. I think it was actually kind of fun and not as painful as I thought it would be. Although of course, it was a bit different and needed some getting used to. I had to keep reminding myself in the beginning that it wasn't Lea talking or Gabe.
Overall, I enjoyed reading this cute story. And if I had a chance to read another story kind of with all these POVs creating a novel, I would probably try it again~
The Rating: (1-10): 8~