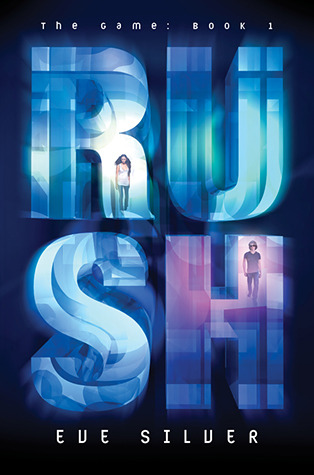 Rush (The Game #1)
by Eve Silver
Release Date: June 11th, 2013
Publisher: Katherine Tegan Books
Paperback, 361 pages
Genre: YA, Sci-fi
Get a Copy:
Amazon | B&N
Goodreads Summary:
So what's the game now? This, or the life I used to know?
When Miki Jones is pulled from her life, pulled through time and space into some kind of game—her carefully controlled life spirals into chaos. In the game, she and a team of other teens are sent on missions to eliminate the Drau, terrifying and beautiful alien creatures. There are no practice runs, no training, and no way out. Miki has only the guidance of secretive but maddeningly attractive team leader Jackson Tate, who says the game isn't really a game, that what Miki and her new teammates do now determines their survival, and the survival of every other person on this planet. She laughs. He doesn't. And then the game takes a deadly and terrifying turn.
Cindy's Review:
**Copy provided via the author
in exchange for an honest review. All opinions expressed are mine alone.**
At a Glance/The Cover:
Rush had a really interesting concept to it. When I read its storyline, I couldn't help but want to read it immediately! Yes, it's definitely one of those games where the players can die, isn't necessary, and can't be gotten out of.
The only I can think of somewhat related to this plot is The Hunger Games, but it is different. In many ways. Many ways.
The Characters/My Opinion:
Miki Jones
-
Miki is the main character that gets pulled out of life, LITERALLY, and into a game. But it isn't just a game. This 'game' determines the Earth's life. This game gives us another view of Earth and how it was affected by aliens, which can't be seen by humans.
I think Silver explains this plot really well. Readers aren't super confused to how game works, how people get pulled out of life, and why doesn't any normal people notice. The characters in the story describes this game very well, and also adds suspense to the story.
Jackson Tate -
He actually sounds very stuck-up in the beginning. But we see him change and see his demeanor weaken a little. Just for Miki. Miki and Jackson's relationship isn't all that romantic. We see them fall for each other little. I can't say I fangirl about their chemistry though. But it is a great add along to the story.
Normally, I'm a romance fanatic. Like everything is about the love and the romance. And the chemistry. And that shipping. But for Rush, i think I'm more interested in the game and plots and twists. :)
Luka
-
Personally, I really like Luka. When he was first mentioned, I swear he could have been the love interest. He sounds hotter Jackson Tate. Or maybe because Jackson's jerky attitude kind of wavered my view of him. I don' t see him through Miki's eyes. Luka is like the best friend life saver that helps you get the guy and live to tell the tale.
Comparing to The Hunger Games:
Just because. I feel like I can explain the book better this way....so...here i go. Like the Hunger Games the game is totally dangerous, yet random. It's life-risking and every mistake will be the death of you. Yet why is this game even happening? Unlike the Hunger Games, this game is actually necessary for the Earth to live on instead of just pure entertainment.
These players are supposed to be on their own and all that, but they still kind of work in teams as a group. While in THG, they fight among each other, in Rush, they fight against evil Draus.
This whole thing takes place in our everyday world. So unlike THG, it's not dystopian.
Okay. So that's all I probably should say without spoiling any more than needed. :)
Overall Thoughts:
There were actually a lot of twisters in this novel that I really wasn't expecting. Rush's got me hanging on to the edge of my seat in suspense. I really can't wait to find out what happens next! And to know the truth of Jackson Tate. So many mysteries surround him. I must say, I am curious.
So if you're interested in a sci-fi read, with a great plot and games, try this one!
The Rating: (1-10): 8~
Happy Reading