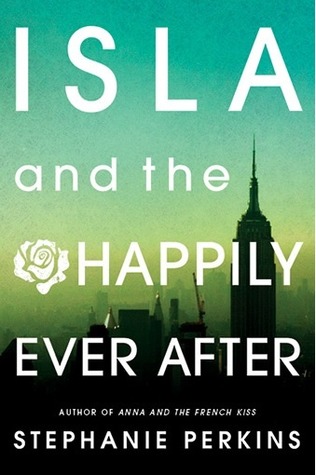 Isla and the Happily Ever After (Anna and the French Kiss #3)
by Stephanie Perkins
Release Date: August 14th, 2014
Publisher: Dutton
Hardcover, 339 pages
Genre: YA Contemporary Romance
Grab a Copy:
Amazon | B&N | Audible
Goodreads Summary:
From the glittering streets of Manhattan to the moonlit rooftops of Paris, falling in love is easy for hopeless dreamer Isla and introspective artist Josh. But as they begin their senior year in France, Isla and Josh are quickly forced to confront the heartbreaking reality that happily-ever-afters aren't always forever.
Their romantic journey is skillfully intertwined with those of beloved couples Anna and Étienne and Lola and Cricket, whose paths are destined to collide in a sweeping finale certain to please fans old and new.
Cindy's Review:
At A Glance/The Cover:
These covers are really nice. I love the skylines. And the colors. :)
I couldn't wait for Isla to come out! Plus, I heard Josh was such a sweetheart. :D I was totally prepared to fall for Josh.
The Characters/My Opinions:
Isla
-
Isla is pronounced Eye-la. Since she introduced herself, I really couldn't stop calling her that. Because it sounds so unique. Isla is a quiet, shy girl. She had a crush on Josh for 3 years, and finally, she's got a chance.
Even though she may seem innocent or shy, she's not. Let's just say she's braver than you think. Not the perfect goody-two-shoes everything think she's supposed to be.
I enjoyed reading about Isla. She's a character that doesn't have plans for her future. She doesn't know what college, what major.....and I can connect with that. She doesn't stand out in the spotlight, yet Josh can still see her and fall in love with her.
Josh
-
Ahhh. The artist. He's tall. :) Yep. First thing I remembered. 6'1". Perfect height. He's a bit of a romantic. Definitely a boy you want to date. When he cares for something, he does it with all his might. Uses all his willpower and strength. Emotionally. Physically. Everything.
Josh reminds me of something soft. Something to cuddle with when you're feeling sad or even happy. He's someone people need in their lives to keep them running and going.
Although Josh seems like a bad student, ditching class and everything, he's not. The adventures he goes on is awesome, definitely fun to read. I would actually do that myself! IF I even could. :)
Like Stephanie Perkins said, Isla is different from Anna and Lola. She has less of a personality. More of unsure about things. And Isla's romance starts in the beginning. Then, problems build up. I think the time span for the conflict part was really short, but the story was longer.
I really liked seeing Isla changing throughout the book, being more sure of herself, being stronger. It's nice seeing a boy like Josh and Isla together. They are the hidden types. In a way, they're not like Anna and Etienne, in the spotlight. They're the type that's totally in love with each and they don't need anyone to know. Not like Anna and Etienne brags about their relationship.....do they?
Kurt
-
While we're here, let's add Kurt, Isla's best friend...whose a guy with autism. In the beginning, Kurt is Isla's backbone. They rely on each other. They're just good friends. No romance. Then we get to see things change as Josh steps in. Not problems like being in between their friendship. We get to see how all these individual characters change.
Okay. Now that I'm done with the super lumpy character descriptions, let's move on to the romance. Yep. I must say, this romance took even a bigger step farther into the high school atmosphere than Anna and Lola. More dramatic. More realistic, intimate relationships. Anna was completely innocent compared to this. But it's real. Isla and the Happily Ever After leaves you feeling like you're floating on a cloud. Not on a bright, beautiful day. But a cloudy one. The good kind. As much as I hate cloudy days, I sometimes find it reassuring in the darkness, especially when it's raining outside. Listening to the rain as it hits the roof. It makes the house feel warm and cozy. That's what Isla's romance feel like.
Overall Thoughts:
It was a nice conclusion to the trilogy. I think it's a trilogy, right? Especially at the gathering of all the characters, where they all met each other. It was a super short meeting, but definitely worthwhile.
Anna and Etienne. I just have to talk about them again. Because, even after all these couples, only 3 really, I still think they're the best couple. Plus, I LOVE Anna. She's a really bright, friendly person to meet. A funny friend. Someone I would love to be friends with. And despite everything, (ignore St. Clair's height), I really really like his charisma. He's hilarious. He and Anna are so perfect for each other! I so happy for these two. I will never get enough of them!
Lola and Cricket. Of course they appeared, looking funky and creative. :) I must say, I didn't really connect with this couple as much, but I was happy they were there. :)
Isla and Josh. The cutesy romantic ones. :) Deep love over here. They're learning how to move on and live their life.
When you think of all of this, it feels like your babies are growing up. That's probably what Stephanie Perkins feel. You're happy they're off to see the world, but you're sad they won't be home as often. They won't come to you every morning asking for breakfast or something. Or at least that's how I've always imagined things. Not that I've experienced anything before.
Another thing before this review ends, Meredith needs her own story. She seems so lonely. Like the odd one out. I think she deserves one herself.
AAANNNND. It comes to an end. It's like being on an adventure with all these people, knowing them more than anyone. And our road has come to an end. We have reached our destination. :) Good bye~
The Rating :(1-10): 9
Well, that was a weird review there. Okay. I'm back to normal!
Happy Reading~