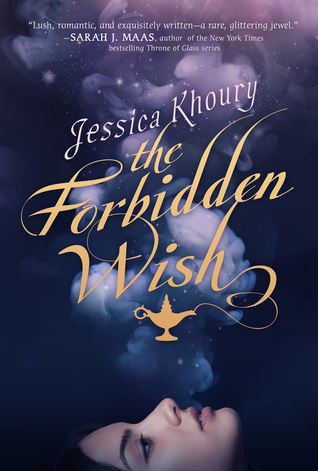 The Forbidden Wish
by Jessica Khoury
Paperback, 352 pages
Release Date: February 23, 2016
Publisher: Razorbill
Genre: YA Fantasy, Retelling
Buy a Copy:
Amazon | B&N | Book Depository
Goodreads Summary:
She is the most powerful Jinni of all. He is a boy from the streets. Their love will shake the world...


When Aladdin discovers Zahra's jinni lamp, Zahra is thrust back into a world she hasn't seen in hundreds of years -- a world where magic is forbidden and Zahra's very existence is illegal. She must disguise herself to stay alive, using ancient shape-shifting magic, until her new master has selected his three wishes.

But when the King of the Jinn offers Zahra a chance to be free of her lamp forever, she seizes the opportunity—only to discover she is falling in love with Aladdin. When saving herself means betraying him, Zahra must decide once and for all: is winning her freedom worth losing her heart?

As time unravels and her enemies close in, Zahra finds herself suspended between danger and desire in this dazzling retelling of Aladdin from acclaimed author Jessica Khoury.
Cindy's Review:

** I won The Forbidden Wish from a Goodreads giveaway, which did not influence my opinion of this novel

.

**
The Forbidden Wish
by Jessica Khoury is a retelling of
A Thousand and One Nights
, focusing on a prohibited relationship between Aladdin and his
jinni
(genie), Zahra. Taking the place of Aladdin's well-known, blue and mischievous Genie, Zahra has a backstory of her own. Zahra narrates the tale as if she is talking to her beloved Queen Roshana. The Wise Queen once ruled the omnipotent city of Neruby — a vast land that was destroyed 500 years ago by a devastating war. The war is rumoured to be single-handedly started by Zahra who had used Roshana's trust to bring down Neruby. After the conflict, the descendants of Roshana banned the
jinnis
and created wards to prevent their entrance.
The novel begins when Zahra meets Aladdin. A magic ring that Aladdin stole leads him into the ruins of Neruby, where he finds and rescues Zahra from her 500 year imprisonment in the lamp. Zahra is glad that she is finally free from her dungeon of darkness, but decides not to become attached to Aladdin due to her past experiences with Queen Roshana. Zahra was forced by the King of
Jinnis
— a Shaitan, one of the most powerful of the
Jinn
— to kill Roshana because of their forbidden human-
jinni
relationship. She does not want the same fate for Aladdin. Zahra's hope for Aladdin to quickly choose his wishes soon changes when the Shaitan appears once more and assigns Zahra to save his son, Zhian, who was captured and trapped in a bottle inside the castle. In return for saving the Shaitan's son, she is promised freedom.
Zahra's only hope to release Zhian before the month ends is to manipulate Aladdin and use his wishes for her benefit. In an attempt to enter the castle, she urges Aladdin to wish to become a Prince so he can get revenge on Darian, whose father murdered his parents. Aladdin has the chance to make Princess Caspida fall in love with him so he may inherit the throne with her in place of Darian, the betrothed of Caspida.
As this plan is put into action, Zahra learns how to understand Aladdin and helps him fall into the character of his disguise. Facing many threats from inside and out of the castle, Zahra is racing against time to achieve her freedom, without betraying Aladdin. Aladdin and Zahra's adventure leads readers through a magical and enchanting adventure filled with finger-curling danger and unexpected surprises.
I highly recommend
The Forbidden Wish
to readers who would enjoy a desert fantasy with an extraordinary twist.
Rating (1-10): 9~
Happy Reading~