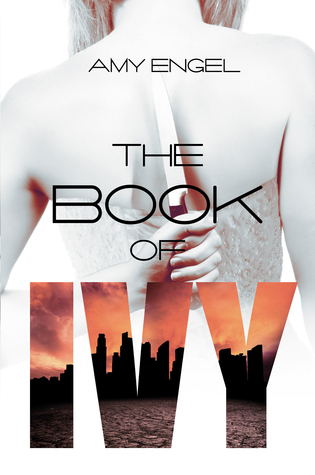 The Book of Ivy (The Book of Ivy #1)
by Amy Engel
Release Date: November 4th, 2014
Publisher: Entangled Teen
Paperback, 282 pages
Genre: YA Dystopia
Get a Copy:
Amazon | B&N
Goodreads Summary:
After a brutal nuclear war, the United States was left decimated. A small group of survivors eventually banded together, but only after more conflict over which family would govern the new nation. The Westfalls lost. Fifty years later, peace and control are maintained by marrying the daughters of the losing side to the sons of the winning group in a yearly ritual.

This year, it is my turn.

My name is Ivy Westfall, and my mission is simple: to kill the president's son—my soon-to-be husband—and restore the Westfall family to power.

But Bishop Lattimer is either a very skilled actor or he's not the cruel, heartless boy my family warned me to expect. He might even be the one person in this world who truly understands me. But there is no escape from my fate. I am the only one who can restore the Westfall legacy.

Because Bishop must die. And I must be the one to kill him…
Cindy's Review:
At a Glance/The Cover:
I was introduced The Book of Ivy through a lot of blog promo posts because of the blog tour. The synopsis just snatched my attention and wouldn't let me forget about it. I wanted to read it SO MUCH. The reviews were pretty good, but I knew that plot is something I personally would read and like. So I made the ultimate decision to pre-order The Book of Ivy on Amazon. Let me tell you, I totally did not regret it.
The Characters/My Opinion:
Ivy Westfall - Ivy proved to be a person that has a heart. Not cold, like her sister, Callie. But Bishop can practically melt anyone's cold heart. According to Bishop, Ivy is easy to read, so I kind of relate that statement to the title: The Book of Ivy. Although, Ivy isn't that kickass heroine that's strong enough to have her own stubborn opinion, she does end up kicking up some courage and made some I mean A LOT of sacrifices for something she feels is right.
Bishop Lattimer

-

He seems so perfect that he isn't even a real person. Can someone actually be that nice? Now that I think about, Bishop doesn't really have that strong of a personality besides being super genuine and kind. But when you're reading the book, you forget all about that. He's literally the best person ever. How could anyone hate him? Maybe if he had some humor or another quality that showed his personality though.....that might have made Bishop stand out even more.
I have been on a dystopia hiatus because I got tired of how similar all the plots were and how the characters practically do the same thing and tell the same story. But The Book Ivy was such a suspenseful one, I couldn't resist. I read the synopsis and just had to pre-order it on Amazon. It's like that perfect dystopia novel that I would enjoy. Of course, a lot of other books kind of has this kind of plot. I can totally compare The Book of Ivy to Delirium by Lauren Oliver.
Overall Thoughts:
If you're tired of dystopian YA novels, well, I recommend that you read The Book of Ivy anyways. It was a good book to get only a little dose of those dystopian stories considering it was only 200 pages or so. Okay. Maybe that's long, but it definitely felt really short. Unfortunately, that cliffhanger's got me thinking about the next and final book in the series, The Revolution of Ivy, coming out in November. I really wish Ivy and Bishop the best! :)
The Rating: (1-10): 10~
Happy Reading~