I've been on a short hiatus and now I'm back!
Happy 2015, everyone!
Hope you guys are having a great start!
Well, let's start off with some fresh new releases, shall we?
:) Here goes.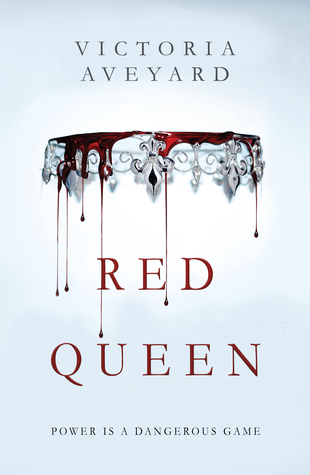 Red Queen (Red Queen Trilogy #1)
by Victoria Aveyard
Release Date: February 10th, 2015
Thoughts:

I'm hooked. Totally hooked. I want to read it so bad! And good thing, I saw it at Costco and I literally couldn't believe it was out already! :) Expect a review from me soon. I hope. I'm a bit slow at reviewing all my books lately. Ugh. Blame school. And movies. Because that's where all my free time gets sucked into. I know. I know. I'm trying. Believe me. I am.
by Cynthia Hand
Release Date: February 10th, 2015
Thoughts:

This book sounds so sad. And deep. I'm pretty sure this is new concept pretty different from Cynthia Hand's paranormal YA series, and we'll see how it goes. It's about a girl trying to get to make herself whole again, to get her life back together. It's about overcoming sorrow and getting over the past.
by Jasmine Warga
Release Date: February 10th, 2015
Thoughts:

This one is another deep novel, filled with empathy and learning how to overcome obstacles in life. A somewhat coming-of-age story of a girl learning to understand herself. This deep dark novel, somehow includes romance, and I guess it's really what helps Aysel and Roman pull through. But the fact that they met each other on a suicide partner website to kill each other is quite....um....scary.
by Kristen Simmons
Release Date: February 10th, 2015
Thoughts: Well, I really don't have much to say about this one, since I didn't hear about it till today via Goodreads. Seems like an interesting read. A dystopian novel about girls trying to survive and not get hunted by men to be used for breeding rights. Or something like that. No mention of love interest, just her trying to survive when she gets caught by these men. But ratings are pretty good so far, so...
by Holly Black
Release Date: February 5th, 2015
Thoughts: This just sounds so cute! Although I'm not hugely into faeries and all that, the glass coffin in the woods and children wanting to become knights and something like that sounds intriguing. What pulled me was the semi- reverse Snow White feel, where the boy in the glass coffins wake up. He's probably a faerie though. Or an elf. I don't know, but either way, may be worth checking out.
All Fall Down (Embassy Row #1)
by Ally Carter
Release Date: February 5th, 2015
Thoughts:

Mystery. Secrets. Conspiracies. Politics. Even though I'm been over mysteries, since that was like my childhood love, I'm still really into Ally Carter's world of spies and thieves. I still love her series of Gallagher Girls and the Heist Society. So can't wait to see this new series!
Lots of great reads this month!
:) I'm excited to be back in the book world~
Happy February!